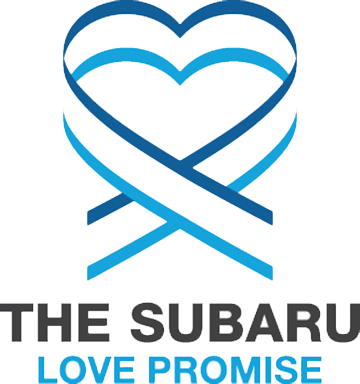 What is the Subaru Love Promise?
Subaru and our retailers believe in making the world a better place and the Subaru Love Promise is our vision of respecting all people. This is our commitment to show love and respect to our customers and to work to make a positive impact in the world.
How is Spitzer Subaru dedicated locally to the Love Promise?
At Spitzer Subaru, you should always feel love and respect. You should feel it when you ask questions. You should feel it when you bring up a need. As representatives of Subaru, We promise to help ensure our customers always feel love and respect. We will go out of our way. We will build lifelong relationships. We do this because we feel it is the right thing to do.
Elk County Humane Society, Gateway Humane Society
DuBois Central Catholic, DuBois Area High School
Haven House, Salvation Army, DuBois Food Pantry
Love Promise Stories from Spitzer Subaru
Subaru and Spitzer Subaru believe in making a positive impact on the communities in which we live and work. We uphold that belief through our Love Promise Community Commitment. Every month, we select inspiring stories from customers and partners from around our area who strive to support our collective commitment and feature them here
"Subaru Loves Pets - Elk County Humane Society" - June G
The Elk County Humane Society was so honored to be partnered with Spitzer Subaru for the "Subaru Loves Pets" Event this year. The program is, Subaru will donate $100 per animal that we adopt out during the month of October, up to $3100.00. I am ecstatic to report that we succeeded that goal and actually adopted 32 animals from our shelter during the month of October 2021! Spitzer Subaru hosted an Adoption Event at their dealership on Saturday October 16. We were invited to bring some of our shelter animals to come and spend the day, to meet the staff and supporters. Curtis Smith and Jeannie Dunworth went above and beyond to make the day special for us. They put together door prizes and provided snacks and beverages for all to enjoy. I, of course always on the job of fundraiser for our shelter, worked with Jeannie and came up with some additional items to raffle off. It was so exciting every time someone came in to drop off donations. Aside from filling up an Outback with supplies, we also collected $697 in monetary donations. Which totally exceeded my expectations of the day! We took two of our kittens, Jason and Pamela, and two of our dogs, Kane and Tina from the shelter to the event. They were all so good and entertained everyone. The kittens were always being cuddled by someone and the dogs were showing their best behavior whenever someone came to visit them. I am happy to report that all four of these animals are now living in their forever homes! A few years back when my sister and I each purchased a new Subaru, I knew we were getting a wonderful and reliable vehicle. Never did I imagine that we would also be gaining a remarkable partnership with a company that truly gives back to the community. On behalf of the Elk County Humane Society I want to thank Spitzer Subaru for this wonderful opportunity that they provided for us. Our fur babies send you tail wags and kisses!
---
2020 Subaru Loves Pets - June G
A few years ago, when my sister and I both went to the Subaru dealership in DuBois Pennsylvania to each buy a new vehicle, little did we realize then that not only did we each gain an incredible and reliable car, but we formed a partnership with a company that has the same passion for animals that we have. When I mentioned that I am the fundraising chairperson for the Elk County Humane Society, the associates assured me that we would partner in future to do something to benefit our shelter. Last year under Johnson Subaru, the dealership did a donation drive for us and brought in huge boxes full of food, toys and supplies. So, this year when I got the phone call from Curtis Smith of Spitzer Subaru to inform me of the change of hands of the business, I was thrilled when he assured me that he already had my contact information for the shelter. Never did I imagine that the program would be as remarkable as this year's October "Subaru Loves Pets "event. For the month of October for every dog and cat that was adopted from our shelter, Subaru offered to donate $100 to our organization. We promoted this grand gesture and the public was all too willing to come and find their new fur babies. We adopted 31 animals in the 31 days! A total of 12 cats and 19 dogs got a new home and the shelter will receive funds to help care for future animals that come in our doors. Each adoption is always a heartwarming experience, but one in particular during October was a sweet elderly lady who saw a picture of a hound on the Elk County Humane Society's face book page and she came to meet her. Karen, who is 82 years young came to our shelter from Grampian to meet our Jemma, an 8-year-old Treeing Walker Coonhound mix. Jemma came into our shelter by way of the State Dog Warden of Elk County. On October 2nd she was found running loose by herself. On intake, she showed signs of poor care and neglect. She was not spayed, not microchipped, no license, skinny, dirty ears, bad teeth, extremely long nails and very hungry. Yet, she had such a sweet disposition. Her picture was put out on social media and she was recognized by someone and her "owner" was contacted. When asked if he was going to claim her, he declined and surrendered her to our shelter. It seems that all of Jemma's life she lived outside in a cage and was strictly a hunting dog – specifically coyotes. She apparently is getting "too old" to hunt so her "owner" had no more use for her. So, we gladly took her in. Being inside was a whole new experience for Jemma. She was so shy around the staff, basically just sat and waited for commands. She had no idea what a toy was nor a soft bed. She showed no signs of aggression but more like a lost soul looking for comforting. After her quarantine period, she passed all her evaluations and was sent to be spayed. On October 16th she was posted as available for adoption. On Friday October 23rd, divine intervention brought two souls together who needed each other. Karen had lost her Treeing Walker hound 5 years ago and immediately fell in love with Jemma when she saw her picture. Jemma immediately took to Karen the moment she saw her at the shelter. She crawled right up on the couch next to Karen in our meet and greet room. She settled in next to her with her head on Karen's lap. Needless to say, just a few days later on October 26th, Jemma was finally living inside her new home. I have been involved with our shelter for almost 15 years and it is because of charitable individuals and Companies like Subaru who are so generous to us that we can continue to bring people and fur babies together. On behalf of the Elk County Humane Society I want to thank Spitzer Subaru for this wonderful opportunity that they provided for us. Our fur babies send you tail wags and kisses.
---
The Bob Perks Cancer Fund Loves Share The Love - Marjann Y
Six years ago, the Bob Perks Cancer Assistance Fund (BPF) was chosen as a recipient of the Subaru Share the Love campaign. Since that first year, more than $74,700 has been raised and allocated to Clearfield County cancer patients. The BPF is extremely grateful to our Strategic Partner Spitzer Subaru. As the BPF development coordinator, I am proud to work with the tremendous staff at Spitzer Subaru to co-host the Holiday Open House. The Holiday Open House provides an opportunity to promote Share the Love and the BPF mission to help ease the financial burden of cancer patients who are struggling to pay basic living expenses such as rent, utilities and groceries Because of the pandemic two major fundraisers were cancelled. The monies raised during the Share the Love campaign helped meet the need so the BPF did not skip a beat in providing funding to Clearfield County cancer patients so they may focus on treatment and recovery. On a personal note, my dear friend lost his flooring business amid the pandemic. While he was struggling to make ends meet, he was diagnosed with cancer. My friend donated numerous hours to raise funds for local charities and now he needed help. I told him the BPF maybe able to help and they did. Now he can focus on his treatment and recovery with less worry. Hats off to Spitzer Subaru for their continued support of their neighbors who are battling cancer. You do make the future brighter.
---